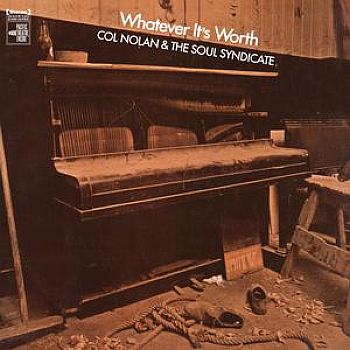 Pacific Theatre Encore
COL NOLAN SOUL SYNDICATE - Whatever It's Worth LP
Includes d/l code. 
Liner notes. 

The first ever official reissue of this super rare '68 Australian Soul Jazz album from the resident band at the Whisky A Go Go in Sydney's Kings Cross. Lead by Australia's King of the Hammond Organ, Col Nolan and featuring John Sangster, Jimmy Doyle, Col Loughnan and John Allan.

Reissue of an insanely rare breakbeat laden Soul Jazz holy grail from 1968 from the all-star inhouse band of the legendary nightclub Whiskey A Go Go in Kings Cross' swinging sixties heyday, long before Sydney's current lock out law induced coma. Having long contributed to the evolution of contemporary Australian Soul, Funk and Jazz, Lance Ferguson (The Bamboos, Lanu, Menagerie ex Cookin' On 3 Burners), now aims to revive its history with a new reissue label.

The first release on the label is undoubtedly one of Australia's rarest and funkiest jazz albums. 'Pacific Theatre Encore will be reissuing music from across the globe, but it was important to me for the first release to shine a light on the important legacy of our own scene', Ferguson states. 'Australia has a rich history of recorded Jazz, Funk and Soul music which deserves much wider recognition. 'Whatever It's Worth' is as good as any Soul-Jazz album that was coming out of U.S and U.K in the late 60's - the musicianship and production are absolutely top-shelf.' Ferguson meticulously restored the audio, taken from a vinyl copy of the album, which was then remastered by Steve Smith at Studio 301. Lead by Col Nolan on Hammond organ, the band consisted of drummer / percussionist John Sangster (whose own late '60s albums on Festival have been reissued recently), Col Loughnan on sax and flute, John Allan on bass and 'Diamond' Jimmy Doyle on guitar. Influenced by U.S artists like Jimmy Smith and Jimmy McGriff, by the late '60s Nolan had already established himself as Australia's pre-eminent champion of his instrument. The '68 line-up of The Soul Syndicate would prove to be an Australian Jazz super-band and Loughnan and Doyle went on to form '70s jazz rock giants, Ayers Rock, who released two albums on Mushroom. Early '70s Soul Syndicate tunes have become highly-sought after, but this album is their rarest, with collectors paying close to four figure sums on the rare occasion that a copy surfaces. The album is lead by some cracking originals written by Nolan, Loughnan and Sangster. Their versions of popular songs of the time are more re-inventions, such as the drum heavy, low slung take on Bobbie Gentry's 'Ode To Billie Joe' and a superlative rendition of Jimmy Webb's much-loved 'By The Time I Get To Phoenix', where Col Loughnan steps up to deliver a tender vocal take, before the whole thing builds to a frantic, swirling, psychedelic crescendo.

---
Share this Product
---
More from this collection