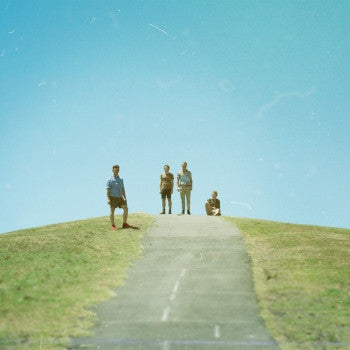 Popfrenzy
CAMPERDOWN & OUT - Couldn't Be Better LP
Includes download code.
"There are a few bands about in Australia that make the kind of jangle pop with which The Clean and other members of the Flying Nun roster would have been very much at home. Most of them have become national darlings thanks to the relentless efforts of Chapter Music supporting the very deserving talents of Dick Diver or Twerps, for instance. Pop Frenzy with their, somewhat more gregarious interest in all the different kinds of indie music that would surely wither and die without the loving care of a very determined label behind them, have been championing Camperdown & Out.
Featuring members of Royal Headache, among others, C&O has come about as a way to kick back and let out some pleasantly off-key pop sounds. Their debut record Couldn't Be Better certainly channels that kind of feeling. Songs celebrating mundane life in and about Sydney: young, musical bums, trying to get by in the world. It's worth spending a bit of time with the lyrics, because they're every bit as important to this record as the music. The sunny jangle-pop is a much-needed upper for these honest odes. Take single Down And Out, a ruefully sarcastic look at 'success', with an unshakeable grin that only the truly poverty stricken could manage.
Couldn't Be Better is in its happy reminiscences and harsh realities, like a couple of drunks propping each other up. It's somehow difficult to believe that the whole affair comes through still standing upright, but somehow it does and smiling to boot." - Chris Cobcroft (4ZZZ)


---
Share this Product
---
More from this collection