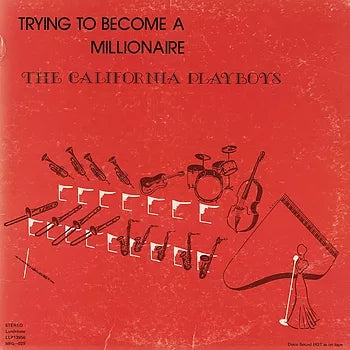 Manufactured Recordings
CALIFORNIA PLAYBOYS - Trying To Become A Millionaire LP
In the early 1970s, the collective known as The California Playboys was the backing band for R&B singer Lester Young (not to be confused with the jazz saxophonist of same name) on a series of singles, before recording their sole album, Trying To Become A Millionaire, under their own name.

The instrumental precision of Trying To Become A Millionaire is immediately evident; clearly the product of a group of seasoned session musicians. Incorporating Latin music elements, pre-disco rhythms, bouncy funk bass lines and seamlessly clean guitar, the album calls to mind the music of Donald Byrd, Roy Ayers and Bobbi Humphrey. Depending on the track, the vocal delivery is at times reminiscent of Bobby Womack, Donny Hathaway or even Marvin Gaye, but all provide a complimentary gravity and substance to the flawless instrumentals.

The album was never repressed or reissued since its initial run on the San Francisco-based Loadstone label in 1976. As a result, it has become incredibly sought-after in the ensuing years. Original vinyl copies, when they even appear, have been known to sell for $1,000 or more among collectors.


---
Share this Product
---
More from this collection