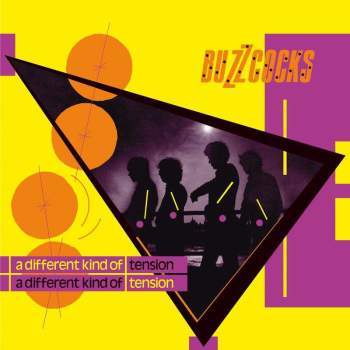 Domino
BUZZCOCKS - A Different Kind of Tension LP
Includes 8-pg booklet. 
180 gram. 
Highly recommended.

Famously taking their name from 'It's the buzz, cock', a headline from a Time Out review of 1970s TV music drama 'Rock Follies', Buzzcocks formed in Bolton in 1976 by Pete Shelley and Howard Devoto, who have a strong claim to have kick-started a musical revolution in Manchester having organised and played at the now famous Sex Pistols show at Manchester's Lesser Free Trade Hall in 1976, a show which inspired and spawned the likes of Joy Division, The Fall and The Smiths.

Having recorded and pressed their debut EP, Spiral Scratch, in December 1976 for a cost of £500 (the single would go on to sell 16,000 copies in the first six months of release on their own New Hormones label), the band soon under-went personnel changes with founder Howard Devoto leaving before they signed to United Artists and embarked on the recording of their debut album.

A Different Kind Of Tension was the third album, originally released in 1979. In recent times reviews by magazines such as Rolling Stone and Uncut have suggested that this is the best of their first three albums, which is making quite a statement! 


---
Share this Product
---
More from this collection