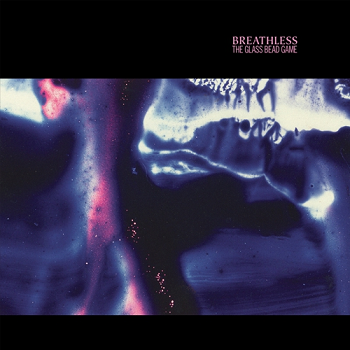 1972
BREATHLESS - The Glass Bead Game LP
Appropriately naming themselves after the French New Wave classic from Jean-Luc Godard, Breathless are effortlessly cool, fashionably dark, hopelessly melancholic and frustratingly off-center romantics. Often lumped together with bands like The Sound and Comsat Angels, Breathless have more in common with the mid to late '80s wandering output of The Cure, The Cocteau Twins and other artists stretching the post punk dream pop template, thanks to the strength of their arrangements and shifting time signatures, along with one of the greatest vocalists to ever step foot in the genre.

Ari Neufeld knew a unique talent when she saw it and quickly drafted Dominic Appleton in to her current band due to his inventive keyboard skills. The two immediately found that they had a strong songwriting bond that far outstripped the rest of the group. Folding in guitarist Gary Mundy, with whom Appleton had been in previous projects, including their marvelous work backing Anne Clark on her debut album, the trio set out on a new path, with Appleton crucially taking command of the vocal duties.

Linked to labels like 4AD, but with a strong sense of independence and a reluctance to tour endlessly, Breathless would self release their entire catalogue on their Tenor Vossa label. Certainly, the band had the charisma needed for stardom, along with the songwriting skills, but their output would remain on the margins, beloved by those in the know.



---
Share this Product
---
More from this collection