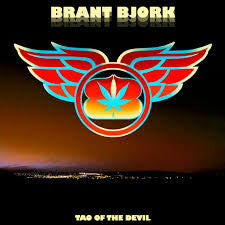 Napalm Records
BRANT BJORK - Tao of the Devil LP
One of the main figures in stoner rock is back with a brand new record, The Tao of the Devil. Less than two years after a staggering return to the solo career that further cemented his status as a legend, Brant Bjork smoothly moves forward by crafting another strong addition. Much like Black Power Flower or just about any of his LPs, we receive a batch of humble tunes, oozing '70s rock, this time complete with a fitting production harkening back to the respective era.

Although less turbo charged, Tao of the Devil shares powerful moments like 'Humble Pie' or 'The Greeheen' which bring out that unmistakable dual, fuzz-drenched attack. The former resembles a soundtrack to a ride on the coast, its guitar licks and heavily driving bass offering a sweet, sunny atmosphere, whereas the latter channels Black Sabbath through a trudging riff that breaks midway into a typical Bjork boogie. Meanwhile, 'Stackt' is a lazy rocker that only Brant can pull off. The major work is done by the trademark attitude over a fat bass line, whereas the man sings a couple of verses every minute or so. Nevertheless, the dirty finale will have you head banging in slow motion whilst accepting his reign over an entire genre.

Moving along, we find the good time praising, 'Luvin'', a tune that resembles some of those relaxed grooves of his early '00s material. As per usual, the stop-start riffing and swinging choruses roll by naturally. Then there is also the centerpiece, 'Dave's War', a 9-minute epic offering an engaging rock 'n' roll first part where Brant shouts over dynamic grooves. After a subdued middle segment, the band lashes out on a long coda jam, bringing out genuine Kyuss moments. The dueling guitars on top of circular rhythm patterns carry on for minutes, at times speeding the tempo. I like how they mixed the entire song, as each instrument has its own vibe and can be clearly heard all the way. In a similar fashion to previous efforts, the title track ends the trip with a slow burning, campy feel, where a repetitive guitar lead is joined by a deep bass, bluesy drum beats & Bjork's smokey vocals. This is a really nice comedown to a short but very sweet record.

Call him lazy or how you want, but then again, nobody does this stuff like Brant Bjork. Everybody copies or inserts similar parts in their own music, however, this is where it all comes from. Such fine, laid back, groovy rock made in the peaceful Mojave Desert gets done by fewer people these days and, thankfully, he's one of those who actually keep the flame alight.
---
Share this Product
---
More from this collection