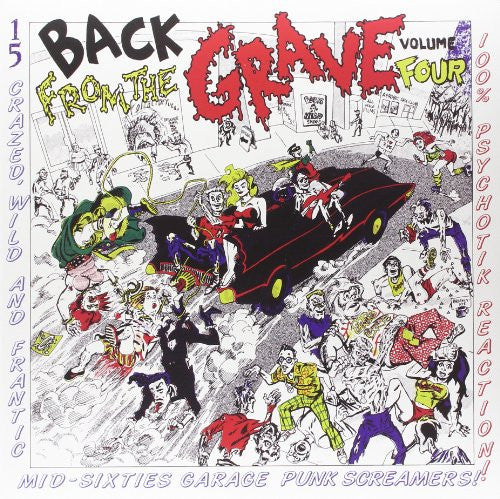 Crypt
v/a- BACK FROM THE GRAVE vol. 4 LP
There are a lot of good compilations coming out and some are perhaps more diverse, but none are as screamin' or as rockin' as these! With that in mind, they are essential purchases for all true believers.

Good god – THEE best Volume! REMASTERED, with updated linernotes and photos and in a swank GATEFOLD sleeve!

SIDE A
The Tamrons: "Wild-Man"
The Cyclones: "She's No Good"
The Fabs: "Dinah Wants Religion"
Red Beard and The Pirates: "Go on Leave"
The Hallmarks: "I Know Why"
The Sonics: "Santa Claus"
Rocky & The Riddlers: "Flash and Crash"
Tonto & The Renegades: "Little Boy Blue"
SIDE B
The Botumless Pit: "13 Stories High"
The Aztex: "I Said Move"
The Nomads: "Be Nice"
Bunker Hill: "The Girl Can't Dance"
The Sloths: "Makin' Love"
The Wyld: "Fly By Nighter"
The Vectors: "What in the World"
The Huns: "Shakedown"
Larry and the Blue Notes: "Night of the Sadist"
---
Share this Product
---
More from this collection