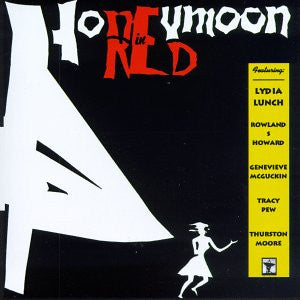 Bang!
LYDIA LUNCH - Honeymoon In Red LP
Gatefold sleeve.

Honeymoon In Red were a supergroup of sorts, that grew out of Lydia Lunch collaborating with the Birthday Party and Rowland S Howard in particular (Nick Cave only sings on two of the songs). The tapes were unfinished at the time and remixed later by Jim Foetus, with Thurston Moore brought in for some guest guitar.
The Birthday Party were in a transitional period at the time, between Junkyard and The Bad Seed EP. It must have been the time where RSH considered forming a proto version of These Immortal Souls, as songs like Still Burning or the role of Genevieve McGuckin on piano suggest. Mick Harvey plays the drums. Fans of the Birthday Party, Lydia Lunch and RSH should definitely pick this record up. It captures those involved in strong form, the songs are excellent, but due to its transitional and experimental nature it's not a magnum opus.


---
Share this Product
---
More from this collection